What We Do Home>Transportation Planning>Twin Cities Area Transportation Study>TwinCATS 2013-2040 Long Range Plan
TwinCATS 2013-2040 Long Range Transportation Plan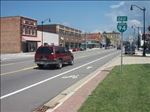 Bike Lanes along the I-94 Business Loop in Benton Harbor
TWIN CITIES AREA TRANSPORTATION STUDY (TwinCATS)
LONG RANGE TRANSPORTATION PLAN: What Moves You Berrien County: How will we arrive in 2040?
TWIN CITIES AREA TRANSPORTATION STUDY
2013-2040 Long Range Plan Here
---
Sections of the Long Range Plan
Note that these are working drafts of sections of the long range plan. More complete drafts will be available before the April comment sessions. In the meantime, we invite you to make comments and suggestions while the plan is still heavily under development. 
This page last updated on 10/17/2017.
Southwest Michigan Planning Commission
376 West Main Street Suite 130 Benton Harbor, MI 49022-3651
Phone: 269.925.1137 Fax: 269.925.0288