Upcoming Events
Events for the Next 30 Days
Twin Cities Area Transportation Study (TwinCATS)
The Twin Cities Area Transportation Study (TwinCATS) is the designated Metropolitan Planning Organization (MPO) for the Benton Harbor-St. Joseph urbanized area. MPO exist for all urbanized areas with a population of 50,000 or greater as designated by the United States Census.
TwinCATS has two committees, the Technical Advisory Committee (TAC) and the Policy Committee. These two committees work cooperatively to make transportation related decisions for the Benton Harbor-St. Joseph urbanized area. The Committees are made up of local representatives, transit providers, citizen reps, and elected officials from the TwinCATS member municipalities listed above. Also on these Committees are representatives from the Michigan Department of Transportation (MDOT) and Federal Highway Administration (FHWA).
Get Involved
Meetings are open to the public and are a place for you to come and learn or voice your thoughts on projects.
For more information on how to be involved, see the calendar of events page or the meeting information page for more details, or send an email to kovnatb@swmpc.org to be added to the TwinCATS email list. Visit the Participation Page for more ideas on how to participate.
---
Please see the Napier webpage for information about the Napier Corridor Pedestrian and Bicycle Study.
---
Commonly used acronyms and definitions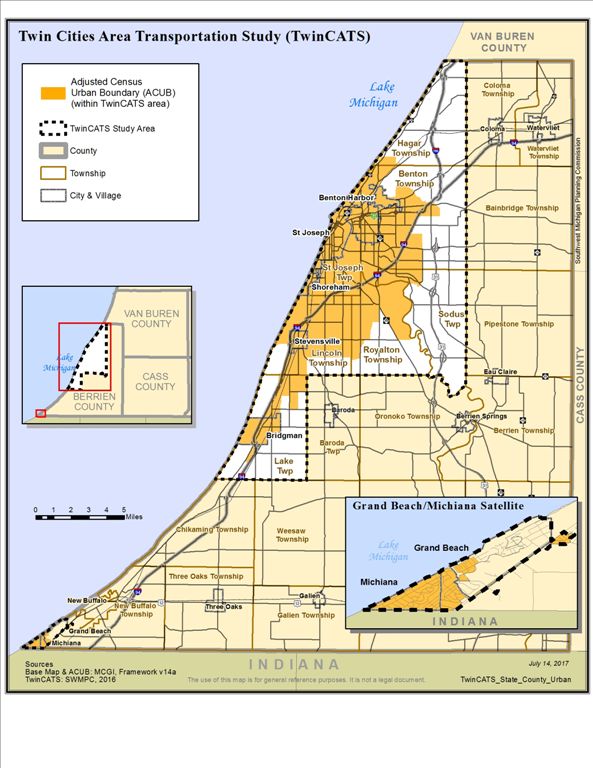 The Twin Cities Area Transportation Study encompasses 14 jurisdictions located in Berrien County, these municipalities are:
This page last updated on 8/9/2021.
Southwest Michigan Planning Commission
376 West Main Street Suite 130 Benton Harbor, MI 49022-3651
Phone: 269.925.1137 Fax: 269.925.0288