Hazard Mitigation Planning
You will need Adobe Acrobat to download these plans:
2016 Van Buren County Hazard Mitigation Plan Update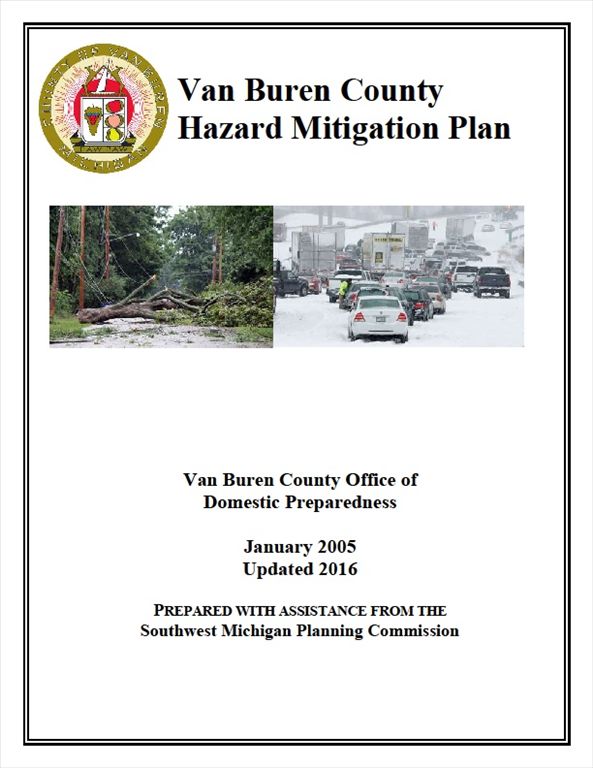 2005 Van Buren County Hazard Mitigation Plan
The Disaster Mitigation Act (DMA) of 2000 included new requirements for hazard mitigation planning. In order to become eligible for hazard mitigation grant program funds in the future, counties must prepare and adopt hazard mitigation plans. The DMA required that local hazard mitigation plans that meet the requirements of the act were to be in place by November 2004.
The intent of a hazard mitigation plan is to inventory possible hazards, assess what hazards the community is vulnerable to, and to provide possible mitigation activities for those hazards. Every county in the region had an emergency management plan that addressed emergency action guidelines. These plans addressed response to a disaster, but did not address prevention. The focus of the hazard mitigation plan is the development of projects and policies that can be implemented to reduce or prevent losses from future disasters.
SWMPC encouraged all of the municipalities in Van Buren County to participate in the development and implementation of the plan.
---
Community Resilience Building Workshop Guide
"Community Resilience Building" is a tried and tested approach that is now trusted by over forty five communities. You can get the Guide and much more at www.CommunityResilienceBuilding.com.
The Community Resilience Building Workshop is a flexible "anywhere at any scale" comprehensive approach that gets municipalities, organizations, and agencies moving further on resilience.
This page last updated on 12/16/2020.
Southwest Michigan Planning Commission
376 West Main Street Suite 130 Benton Harbor, MI 49022-3651
Phone: 269.925.1137 Fax: 269.925.0288