About Us Home>SWMPC Governing Board>GW Current Recipient
Graham Woodhouse Award

2018 Graham Woodhouse Recipient: Indiana-Michigan River Valley Trail in partnership with; National Park Service-Rivers, Trails and Conservation Assistance Program, Indiana Department of Transportation, Michigan Department of Transportation, Michigan Department of Natural Resources, Michiana Area Council of Governments; City of Niles, City of South Bend, Niles Charter Township, Town of Roseland, Berrien County Road Department, St. Joseph Parks, Southwestern Michigan Economic Growth Alliance, American Electric Power, Abonmarche, Wightman & Associates, Inc., Berrien County Foundation, Lakeland Foundation/Lakeland Health, Huizenga Family Foundation, Bike Michigan Coalition, and Be Healthy Berrien.
---
Berrien Springs-Oronoko Charter Township M-139 Corridor Improvement Plan and the M-139 Water and Sewer Project ~ 2016
On April 18th the Southwest Michigan Planning Commission (SWMPC) awarded the 2016 Graham Woodhouse Intergovernmental Effort award for the Berrien Springs-Oronoko Charter Township M-139 Corridor Improvement Plan and the M-139 Water and Sewer Project. The Award is presented annually for projects that exemplify cooperation between and among governments, non-profits, and private entities. It was established to recognize and reward the partners who execute complex, regional problem solving that breeds the efficient use of limited resources. This kind of problem-solving is often much more difficult than traditional methods but the rewards tend to be greater and more far-reaching. The partners involved were deemed deserving for their resourcefulness, dedication, and diligence.
The M-139 projects were executed for purposes that complement one another. The Corridor Improvement Plan is a single vision for growth along a corridor that crosses through two jurisdictions, the Village of Berrien Springs and Oronoko Charter Township. The plan also includes a joint zoning overlay district with rules that apply uniformly. It will be administered by a new joint planning commission and joint zoning board of appeals. The Plan was timed so that it would be in place prior to the completion of the new water and sewer upgrades. The M-139 water and sewer project extended infrastructure after a contentious history of attempts. The new project was based on three fundamental principles: only those who want the utilities should contribute; taxes would not be raised; and property owners would not be forced to connect. The new infrastructure will promote better health and well-being for residents, commercial growth, and improved environmental conditions. The funding composition was an innovative mix of public and private entities.
A diverse partnership made the entire vision a reality. Leadership across federal, state, and local government coupled with the non-profit and private sector talent and resources made it possible for the projects to be a success.
---
Cass County Michigan

Master Plan Collaboration Honored for Cooperative Efforts in 2015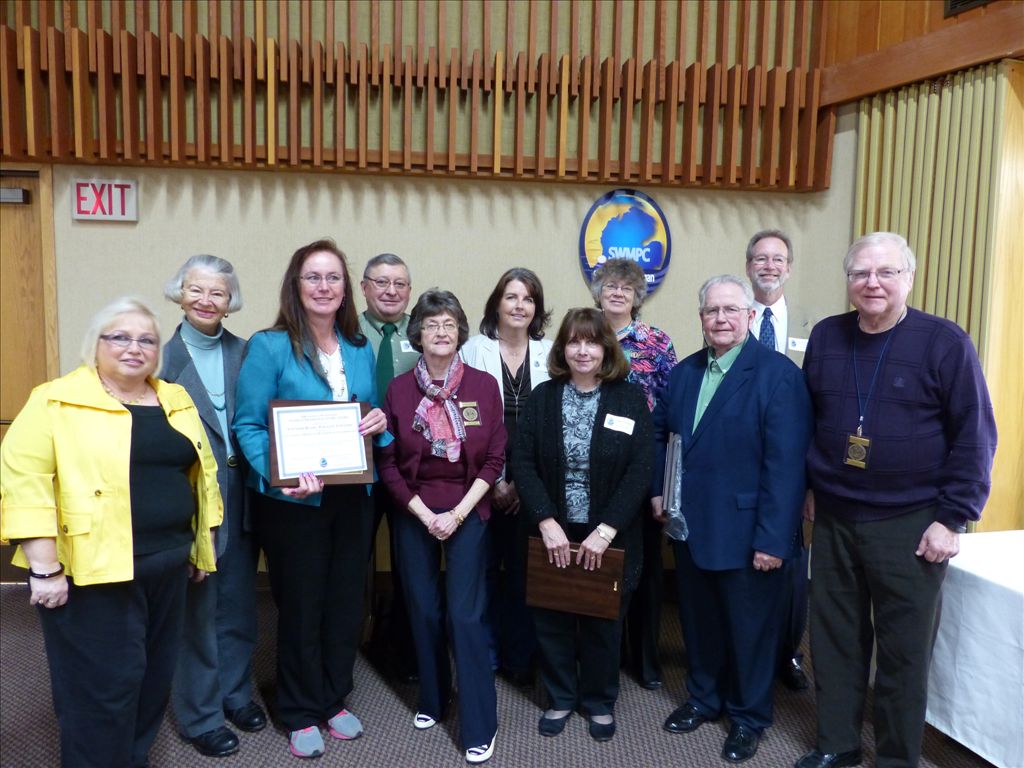 The Southwest Michigan Planning Commission (SWMPC) announces the selection of the Cass County Michigan Master Plan Collaboration for the 2015 Graham Woodhouse Intergovernmental Cooperation Award.
During the SWMPC April 21, 2015 Board meeting at the Lake Charter Township Hall, John Egelhaaf, SWMPC Executive Director, explained that "The Graham Woodhouse Intergovernmental Effort Award recognizes the value of cross-jurisdictional, regional cooperation. These projects utilize limited resources efficiently, combine goal-setting, and visualize the world as nodes of regional resources. The players in this process are frequently not recognized so to those who search for collaborative change, SWMPC appreciates your work!"
The nomination was submitted by Barbara Wood Cook, Chair, Cass County Planning Commission and Roseann Marchetti, Member of the Cass County Planning Commission and Cass County Board of Commissioners. The Cass County Master Plan Project had several different components: Review, Update and Adopt a Cass County Master Plan and future land maps after the census of 2010. Assist any municipality within the county to review, updated and adopt a master plan after the census of 2010 for a fraction of the cost of doing it independently. This master plan adopted by the municipalities would serve as their master plan and the basis for adopting or updating their zoning ordinances. Six of the 21 municipalities in Cass County participated in the project.
SWMPC Board Chair, Gloria Payne presented award plaques to representatives from 6 of the 8 agencies involved.
Mark Eidelson, AICP of LANDPLAN, Inc. accepted the award for serving as the consultant for the project.
The Cass County's plaques were accepted by Barbara Wood Cook, Debra Troche, Roseann Marchetti and Robert Ziliak.
James Robinson, accepted for the Village of Edwardsburg.
Pokagon Township was represented by Linda Preston, Supervisor.
Gwenn Johnson, Supervisor, represented Volinia Township.
Accepting the award for the Wayne Township was Dr. Frank Butts, Supervisor and Judy Fusko, Treasurer.
The Silver Creek Township and the Village of Vandalia were included in the award, but representatives were unable to attend.
---
This award was established in 1987 to honor former Dowagiac Mayor, Graham Woodhouse and is presented annually by SWMPC for projects that exemplify cooperation by local units of government. Recipients receive the Award in recognition of outstanding cooperative effort in problem solving. The criteria used in evaluating project nominations include relative degree of effort by local units, methodology, scope, and project dimension.
This page last updated on 10/8/2019.
Southwest Michigan Planning Commission
376 West Main Street Suite 130 Benton Harbor, MI 49022-3651
Phone: 269.925.1137 Fax: 269.925.0288