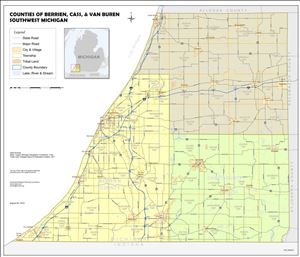 GEOGRAPHIC INFORMATION SYSTEMS (GIS)
Frequently requested maps in PDF format which include boundaries of

planning areas, municipalities, watersheds and more.

Search

for Maps (Coming Soon)

Search for stand-alone maps in PDF format. Many of these maps were created

for reports, such as Master Plans, Recreation Plans, and Transportation Plans, therefore the area of interest varies.




SWMPC GIS ONLINE is a gallery of online maps. Featured are a collection of maps highlighting Transportation elements, unique Natural Resources in Southwest Michigan, Wetland Functions in the Galien River Watershed and more.
Geographic Information Systems (GIS) are used to create mapping products and to perform analysis in support of our work at SWMPC. We also provide GIS mapping services to other organizations in Southwest Michigan.
Interested in custom maps or data analysis? please contact Jill Plescher, GIS Specialist.
This page last updated on 12/26/2017.
Southwest Michigan Planning Commission  
376 West Main Street  Suite 130  Benton Harbor, MI 49022-3651
Phone: 269.925.1137  Fax: 269.925.0288