What We Do Home>Environmental Planning>Watersheds, Water Quality & Wetlands>Paw Paw River Watershed>Watervliet Dam Removal>Watervliet Dam History
Watervliet Dam History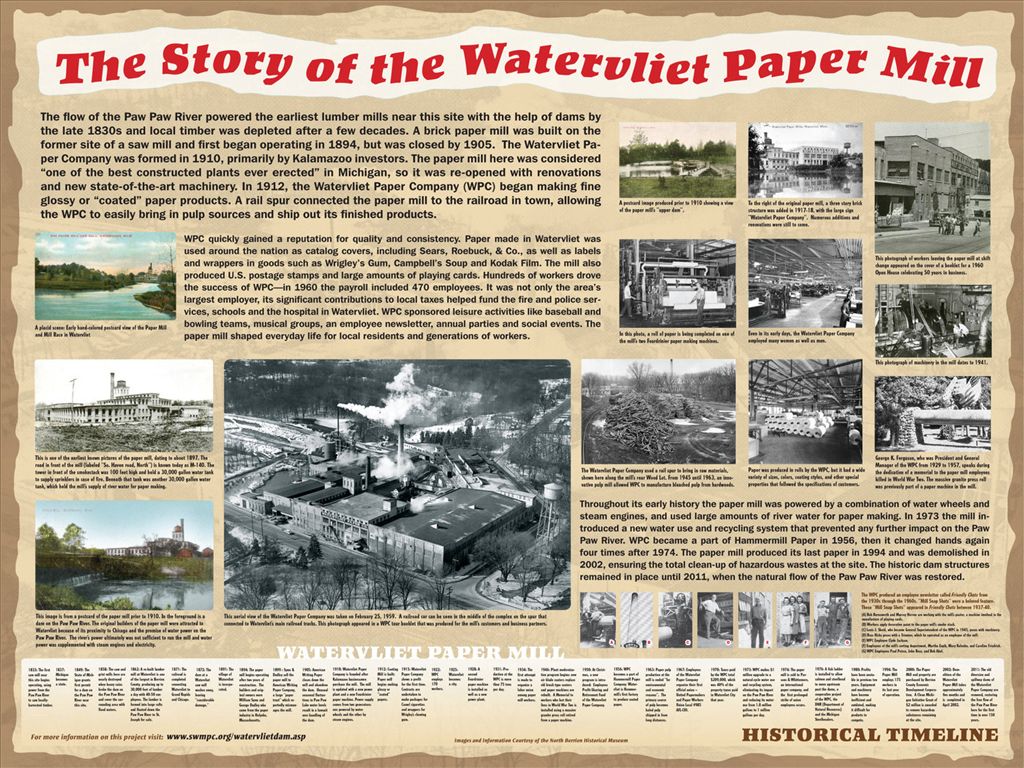 Once the Watervliet dams provided important societal and economic benefits to the community. But the degraded structures are
costly to maintain,
present a safety hazard and
also cause negative impacts to the Paw Paw River and wildlife.
With this situation, dam removal has been demonstrated to be the best option to eliminate negative impacts and safety concerns.
The Watervliet Dams are located in Watervliet Township, Berrien County, Michigan on the Paw Paw River. The dams were originally constructed prior to 1918 to divert flow to the former Watervliet Paper Company Mill that was located west of M-140. The two dams were constructed to raise the water elevation of the Paw Paw River and divert flow to the paper mill. An earthen dike connects the two dams together and isolates the mill race and the diversion canal from the historical channel of the Paw Paw River to the north.
The Watervliet Paper Company closed and the site was abandoned in 1968. The former paper mill site is now owned by Berrien County Redevelopment Authority (BCRA). The BCRA has already removed the old paper mill and filled the diversion canal between the spillway dam and M-140. In addition, the metal structures that supported the piping, road, walkways and guardrails were removed in the 1970's due to corrosion. BCRA is continuing with its efforts to completly reclaim the site and return it to a safe and usable condition that is an asset to the community, and which no longer degrades the environment.
If anyone would like to submit information on the mill history or pictures for this website, please email or call Marcy Hamilton at 269-925-1137 x25 or hamiltonm@swmpc.org.
View some pictures of the old paper mill.
Read more about the history of the paper mill and Watervliet.
This page last updated on 3/22/2018.
Southwest Michigan Planning Commission
376 West Main Street Suite 130 Benton Harbor, MI 49022-3651
Phone: 269.925.1137 Fax: 269.925.0288