Transportation Page Builder
Traffic Count Program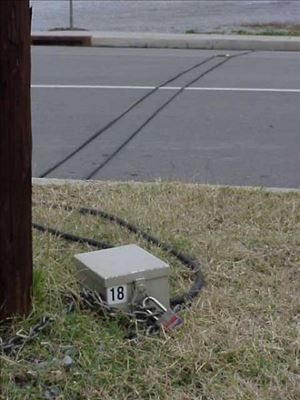 Traffic Counter
The Southwest Michigan Planning Commission Traffic Engineering staff routinely performs traffic counts May through November on roads throughout Berrien, Cass and Van Buren Counties. The data is collected by pneumatic tubes which are stretched across sections of roadways. This service is
free of charge to SWMPC member jurisdictions
within the three counties.
Access SWMPC Traffic Counts Database

How do I request a traffic count from SWMPC?
Requesting a traffic count is easy and can be requested by submitting your information into our new online form.
Local jurisdictions can submit their request using our online form that can be found at this link: www.swmpc.org/trafficountform.asp. Up to three count requests can be submitted at a time using the online form.
You should be ready to provide the following information before you begin:
Detailed description of traffic count location (Landmarks, businesses, natural land forms, etc.)
National Functional Classification (NFC) of the road
Type of Count (Weekday, Weekend, 24 Hour, 48 Hour)
What if I need a count on a non-federal aid local road?
Requests for counts on non-federal aid local roads are fulfilled on a first come first serve basis. Locally controlled Federal-aid road count requests receive first priority during the traffic counting season.
What if I need a count for a state route or interstate?
Traffic counts for trunkline roads are available from the Michigan Department of Transportation. Contact Kevin Krzeminski by phone at 517-335-2274 or by email at Krzeminskik@michigan.gov
What if I need a count that SWMPC doesn't have?
Traffic counts for trunkline roads and adjacent ones are available from the Michigan Department of Transportation.
Click here to visit the MDOT traffic count site.
In addition, road commissions collect counts on their own.
Click here to access Berrien County Road Department counts.
We are currently working with Cass and Van Buren Counties to host their counts on our website.
Why are traffic counts useful?
The Southwest Michigan Planning Commission Traffic Engineering staff routinely performs traffic counts mid-April through November on roads throughout Berrien, Cass and Van Buren Counties. This service is free of charge to member jurisdictions within the three counties. The data is collected by pneumatic tubes which are stretched across sections of roadways. Traffic data is also obtained from other entities and included in the traffic count database as a public service. In addition to being a vital tool for transportation planning and travel forecasting, traffic count information can be used by:
Transportation engineers and planners throughout the region to identify existing traffic problems and solutions
The Michigan State Legislature and U.S. Congress to make decisions regarding the need for and allocation of state and federal funds
Site selection for local economic development
What kind of data can be collected with a traffic count?
Please click here to obtain information on data collection.

Who do I contact if I need additional information?
Brandon Kovnat, Transportation Planner, by email at kovnatb@swmpc.org or by phone at 269-925-1137 x 1524
This page last updated on 7/8/2021.
Southwest Michigan Planning Commission
376 West Main Street Suite 130 Benton Harbor, MI 49022-3651
Phone: 269.925.1137 Fax: 269.925.0288