What We Do Home>Environmental Planning>Low Impact Development>Saugatuck Center for the Arts
Saugatuck Center for the Arts, City of Saugatuck, Allegan County
The Saugatuck Center for the Arts (SCA), in conjunction with the City of Saugatuck, Michigan Department of Environmental Quality (non-point source grant program), and private donors, constructed a public garden that treats rain water that falls on the SCA roof.
The original design was modified to accommodate rain water that would otherwise have entered the Kalamazoo Lake untreated. The resulting design for the garden absorbs and infiltrates 50% of the rain water from the SCA roof, the remaining 50% is treated before entering the nearby lake.
The SCA project achieves the following goals and objectives:
Serves as a model for effectively handling stormwater in an urban watershed by implementing an innovative, on-site stormwater management system.

Reduces impervious surfaces by incorporating porous paving technologies.

Reduces phosphorus loads and contaminants through the use of native plants .

Provides detention, reduces stormwater velocity and quantity and improves water quality by implementing innovative storm water management techniques.

Improves plant diversity and increases habitat by planting bioswales and rain gardens with native plants.
To learn about the Saugatuck Center for the Arts click here!
This page last updated on 5/13/2014.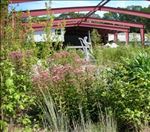 BEST MANAGEMENT PRACTICES
~Protect/enhance riparian areas
~Protect/utilize natural flow pathways in overall stormwater planning and design
~Rain gardens/Bioretention
~Porous pavement
~Subsurface infiltration beds
~Water quality inserts
~Detention/extended detention
~Special storage: Parking lot, rooftop, etc
~Amended soils
Southwest Michigan Planning Commission
376 West Main Street Suite 130 Benton Harbor, MI 49022-3651
Phone: 269.925.1137 Fax: 269.925.0288