Transportation Page Builder
Regional Rural Task Force
The Rural Task Force manages federal and state funds for transportation projects within rural areas of Berrien, Cass and Van Buren Counties. to see a map of eligible area click here. RTF funds can be used on either road or transit capital projects.
Transportation Program Areas for Berrien, Cass, and Van Buren Counties
The money is provided within two funding sources:
Surface Transportation Program (STP) Rural for improving the federal aid system; and Transportation Economic Development Fund (TEDF) Category D for building an all-season network.

All project selection is through the Rural Task Force process which is comprised of representation from the county road commission, the cities and villages under 5,000 population within the county, and the rural transit provider.
There are three Rural Task Force areas in the SWMPC Planning Region:
Berrien County Rural Task Force
Cass County Rural Task Force
Van Buren County Rural Task Force
Region Four Rural Task Force (Membership from each of the three counties)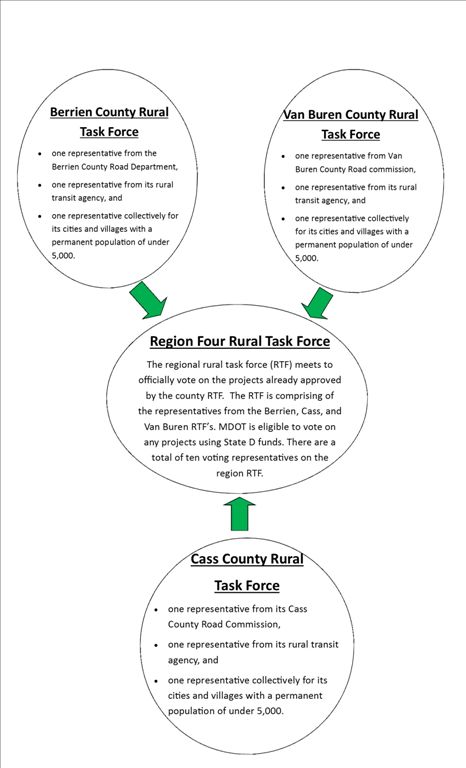 Not sure if you're community's eligible for these funds? Contact Transportation Planner Brandon Kovnat at kovnatb@swmpc.org or (269)-925-1137 x1524 with questions.
What funds does the Rural Task Force make decisions about?
The money for the Rural Task Force comes from the state through two different funding pots:
Surface Transportation Program (STP) funds- These are federal funds and broadly fund a variety of transportation projects.
Transportation Economic Development Fund (TEDF) Category D for building an all-season road network. These are what we commonly refer to as "State-D" funds. The most up to date road network map is forthcoming from MDOT.
Who is on the Rural Task Force?
There are a total of nine (9) voting representatives on the regional Rural Task Force. Each county has one representative from its road commission, one representative from its rural transit agency, and one representative collectively for its cities and villages with a permanent population of under 5,000. Each county sub task force is made up of the requisite representatives in that county.
Those are the only voting members. However, anyone interested is encouraged to attend the meetings and voice their opinion on how the funds are spent.
Are my local taxpayer funds spent on Rural Task Force projects?
Occasionally, but not for all projects. In order to spend federal funds, project applicants must provide at least 20% of the total project cost from non-federal sources (either state or local). The "State-D" funds are a valid non-federal source. Where a road is eligible for State-D funding, agencies in our area strive to take advantage of those funds before requesting local funds. When a local match is used these funds can come from the agency's Act 51 funding, which is derived from the state's gas tax and vehicle registration fees.
This page last updated on 7/15/2021.
Upcoming and Recent Meetings
Southwest Michigan Planning Commission
376 West Main Street Suite 130 Benton Harbor, MI 49022-3651
Phone: 269.925.1137 Fax: 269.925.0288