What We Do Home>Environmental Planning>Watersheds, Water Quality & Wetlands>Paw Paw River Watershed>Pathogen Monitoring on Pine and Mill Creeks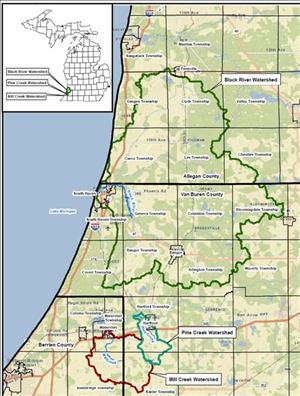 Watersheds Map
Testing for Pathogens in Black River and Pine and Mill Creeks
The Southwest Michigan Planning Commission has received grant funds from the Michigan Department of Environmental Quality to test for pathogens (or E. coli) in the Black River and two tributaries of the Paw Paw River (Pine and Mill Creeks).
Pine and Mill Creek Watersheds have land in both Van Buren and Berrien Counties south of Hartford and Watervliet. Both Pine and Mill Creeks do not meet state water quality standards for E. coli.
The Black River Watershed is within Van Buren and Allegan Counties. South Haven's beaches were closed twice in 2010 due to E. coli contamination. The City and Van Buren County Drain Commissioner have been proactive in finding and eliminating sources of E. coli.
Through this grant, testing for E. coli was done in the summer and fall of 2012 to better understand where the E.coli may be coming from and how to eliminate the pollution sources. Next, DNA analysis will be conducted on the samples to determine the sources of the E. coli. Then a plan of action will be developed to reduce E. coli pollution in the rivers.
If you are interested in this project, please contact Marcy Colclough, Southwest Michigan Planning Commission at 269-925-1137 x 1525.
Final Report and Implementation Plan for the E. coli Monitoring Study of the Black River, Pine Creek and Mill Creek in Berrien and Van Buren Counties, Michigan. April 2014
Press Release from MLIVE: South Haven beach E. coli plan calls for sniffing out faulty septic systems, other pollution sources
Meetings Summaries
Nov 3rd 2011 Black and Paw Paw River Pathogen Monitoring Project Meeting Recap
Dec. 1st 2011 FIC&H Meeting Summary
Black and Paw Paw River Watershed Pathogen Monitoring Project Presentation Nov. 2012
Maps
Black River Sample Stations Map
Pine Creek and Mill Creek Sample Stations Map
Project Plan
Quality Assurance Project Plan (QAPP) for: Black River and Paw Paw River Watershed Pathogen Monitoring Grant Project June 2012
Grant Application
Water Quality Monitoring Grant Application for Black River and Paw Paw River Watersheds Pathogen Monitoring
Sampling Results
Results – Hope College MST Methods Summary & Hope College MST study in Black River and Pine Creek
Black River, Pine Creek and Mill Creek Wet and Dry Weather Sampling Results Summary
Background Information on Pine and Mill Creek
This page last updated on 6/12/2015.
Southwest Michigan Planning Commission
376 West Main Street Suite 130 Benton Harbor, MI 49022-3651
Phone: 269.925.1137 Fax: 269.925.0288