What We Do Home>Environmental Planning>Watersheds, Water Quality & Wetlands>Paw Paw River Watershed
Paw Paw River Watershed
Watershed Management Plan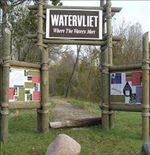 The Watervliet Urban Stormwater Demonstration Site is an example of Low Impact Development (LID) efforts in the PPRW. This site provides educational signage and features a porous pavement parking area.
The PPRW Management Plan is intended to complement the Management Plans developed for the St. Joseph River and Lake Michigan. For more information, please contact Marcy Hamilton at (269) 925-1137 x1525 or hamiltonm@swmpc.org.
PPRW Maps
This page last updated on 6/4/2019.
Southwest Michigan Planning Commission
376 West Main Street Suite 130 Benton Harbor, MI 49022-3651
Phone: 269.925.1137 Fax: 269.925.0288