What We Do Home>Environmental Planning>Low Impact Development>Pokagon Band
Pokagon Band, Elder Housing, Cass County
The Pokagon Band has built a well rounded development that highlights examples of low impact development techniques everywhere you look.
They have established walking paths throughout the development to increase foot traffic.
They have narrowed road widths and utilized grassed swales to capture stormwater runoff.
Rain gardens are incorporated into each home's landscaping to utilize nature's beauty with native plants.
Large open spaces perform two important functions of cleaning stormwater along with providing communal spaces for the neighborhood to gather.
View a presentation about how the Pokagon Band with this development and other land use planning considers and implements goals of the Dowagiac River Watershed Management Plan, the St. Joseph River Watershed Management Plan and the Lake Michigan Lakewide Management Plan.
This project was featured as a case study showcasing a combination of Best Management Practices in Michigan's Low Impact Development Manual.

Reducing the width of the street and lessening the amount of impervious surfaces on the site decreases the environmental impacts that humans will leave.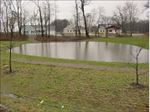 One natural feature within the development are large lowland areas that naturally fill with stormwater. These pools allow natural groundwater recharge to occur.
This page last updated on 11/11/2010.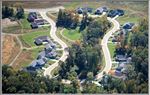 BEST MANAGEMENT PRACTICES
Protect sensitive/special features

Rain gardens/Bioretention

Vegetated swales/Vegetated filter strips

Reduce street and/or parking imperviousness

Cluster uses at each site; Build on the smallest area possible

Protect/utilize natural flow pathways in overall stormwater planning and design

Minimize total disturbed area-grading

Re-vegetate and re-forest disturbed area, using native species

Porous pavement with infiltration beds
Southwest Michigan Planning Commission
376 West Main Street Suite 130 Benton Harbor, MI 49022-3651
Phone: 269.925.1137 Fax: 269.925.0288