What We Do Home>Environmental Planning>Watersheds, Water Quality & Wetlands>Southwest Michigan Water Quality Partnership
Southwest Michigan Water Partnership

Keep It Blue
The Southwest Michigan Water Partnership is a coalition of municipalities that are working together to educate Southwest Michigan residents about protecting water quality and reducing water pollution. To better protect water quality, greater participation is needed in Southwest Michigan. All counties, cities, villages, townships, businesses and organizations are invited to join the Southwest Michigan Water Partnership.
What Municipalities are in the
Southwest Michigan Water Partnership?
How can I join? Contact Marcy Hamilton at hamiltonm@swmpc.org or (269) 925-1137 x 1525
The Berrien and Cass County NPDES-MS4 Group is comprised of the municipalities and counties that are in the MS4 program to reduce pollutants to surface waters of the State. Their permits require these municipalities to conduct public education, test stormwater outfalls for pollutants and perform pollution prevention activities. Below you will find the Public Education Plan and the meeting agendas and minutes from this group.
Public Education Plan and Municipal Commitments
MiWaters – Water Resources Information and Forms - Create and manage Permit Applications and Service Requests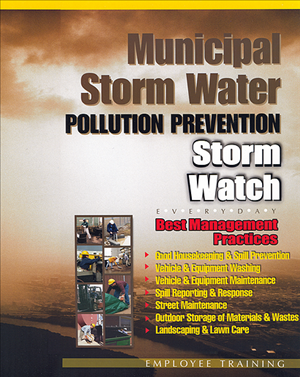 Municipal Storm Water Training Video is available to use.
Training Videos
Remember to document all training of staff. You can use this sign-in sheet.
Municipal Storm Water Pollution Prevention Best Management Practices Training DVD (pictured right) is available for municipalities to borrow. Please contact Marcy Hamilton at hamiltonm@swmpc.org or (269) 925-1137 x 1525
"Parks Staff Keep Water Clean"
A spoof on the typical boring training video, this piece was developed for the parks and public works folks that mow lawns, rake leaves, and keep property clean. In eight short minutes, the video stresses a few basic things employees can do to keep local streams and rivers clean.
"How to Spot and Report Stormwater Pollution"
This video is a tool to train non-storm water, municipal personnel to be able to recognize and report water pollution while traveling the community to conduct municipal business.
"Various Municipal Best Management Practices (BMPs)"
Stormwater Pollution Prevention Training Series - Excerpts
Winter Maintenance Videos (Mississippi Watershed Management Organization, the University of Minnesota, and Fortin Consulting)
For additional water quality training videos click here
For Stormwater Training Videos click here
Contractor Stormwater Compliance Agreement
Landscape Contractor Stormwater Compliance Agreement
Public Education Materials on Water Quality
Through the Public Education Program of the Phase II Storm-water Program, SWMPC has developed several fact sheets, news articles and other items that can be utilized.
This page last updated on 2/22/2023.
Southwest Michigan Planning Commission
376 West Main Street Suite 130 Benton Harbor, MI 49022-3651
Phone: 269.925.1137 Fax: 269.925.0288