Lower St. Joseph/Galien River Watershed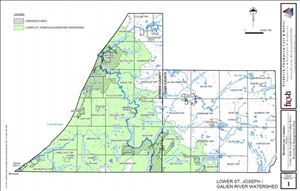 Click to enlarge map
Local governments in Berrien and Cass Counties that have been identified as urbanized areas by the Michigan Department of Natural Resources and Environment (MDNRE) have formed a cooperative agreement to fulfill their National Pollutant Discharge Elimination System (NPDES) Phase II Municipal Storm Water Discharge Permit requirements. The Berrien and Cass County urbanized areas are located in the Lower St. Joseph/Galien River Watershed (LSJ/GRW). This cooperation made among the local governments in these two counties led to the creation of the Southwest Michigan Water Quality Partnership. To learn more about this partnership please click on the link that follows.
Southwest Michigan Water Quality Partnership
The LSJ/GRW is made up of three distinct drainage areas within Berrien and Cass Counties: the St. Joseph River Watershed from the Indiana state line (excluding the Paw Paw and Dowagiac River Watersheds), the Galien River Watershed, and the Lake Michigan Coastal drainage areas from Hagar Township to the City of Michiana.
A Watershed Management Plan (WMP) and a Public Education Plan (PEP) have been developed for the LSJ/GRW area.
The WMP is intended to identify and implement actions needed to improve water quality and reduce water quantity impacts by encouraging cooperation between the diverse public and private entities in the watershed. Building on other plans, the focus of the plan is to alleviate the adverse impacts caused by wet weather discharges from separate storm water sewer systems in the watershed. To access The Lower St. Joseph/Galien River Watershed Management Plan, click here. (Please note that this is a large file (4,182 KB) and may take some time to download if you have a slow connection speed.)
The PEP will guide the educational efforts in the watershed. It will describe efforts to educate and empower the public about ways they can reduce storm water pollution. Outreach activities will reach diverse audiences with a variety of viewpoints and concerns. Successful implementation of the PEP will form partnerships with local agencies and organizations and use educational materials and strategies that are familiar and relevant to the area residents. Click here to download the PEP.
For MS4 permittees - Please visit EGLE's website for permit guidance documents and other resources.
This page last updated on 4/28/2020.
Southwest Michigan Planning Commission
376 West Main Street Suite 130 Benton Harbor, MI 49022-3651
Phone: 269.925.1137 Fax: 269.925.0288