What We Do Home>Environmental Planning>Watersheds, Water Quality & Wetlands>Watershed Projects>lakemitributaries
Lake Michigan Tributaries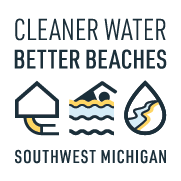 We are delighted to announce that the website for Lake Michigan Tributaries Initiative is live – www.betterbeachesswmi.org.! It is loaded with information on the efforts to detect and provide solutions to prevent E. coli from entering Lake Michigan and closing the beaches. It is a very visual site that we hope you find inspiring!
Lake Michigan Tributaries NPS Watershed Management Plan, Berrien County, MI
With a SAW grant from the Michigan Department Environment and local match funding from The Pokagon Fund, the Southwest Michigan Planning Commission developed a watershed management plan for the Lake Michigan Tributaries
The land use in these watersheds is 26% developed, 12% agriculture, 47% natural (forested/grasslands), 10% wetlands, 1% water and 4% other. The NPS Watershed Management Plan targets E.coli as a priority source pollutant causing impairments in these watersheds.
This project addressed the last twelve streams in Berrien County that do not have watershed management plans completed. Southwest Berrien County is located on the eastern shore of Lake Michigan and is a popular recreation and vacation destination and home to one of Michigan's most visited state parks. Tourism is critical to our economy and tourists have been turned away from our beaches due to high levels of E. coli. In order to stop these beach closings and improve water quality, this project will identified E. coli sources through water testing, environmental canine scent tracking and development of a comprehensive NPS watershed management plan that will be used to guide implementation efforts. This project analyzed the water quality of twelve streams which empty directly into Lake Michigan, resulting in a Watershed Management Plan that meets MDEQ's CMI plan requirements and also standards established by the US EPA for a Nine Minimum Elements Watershed Management Plan.
---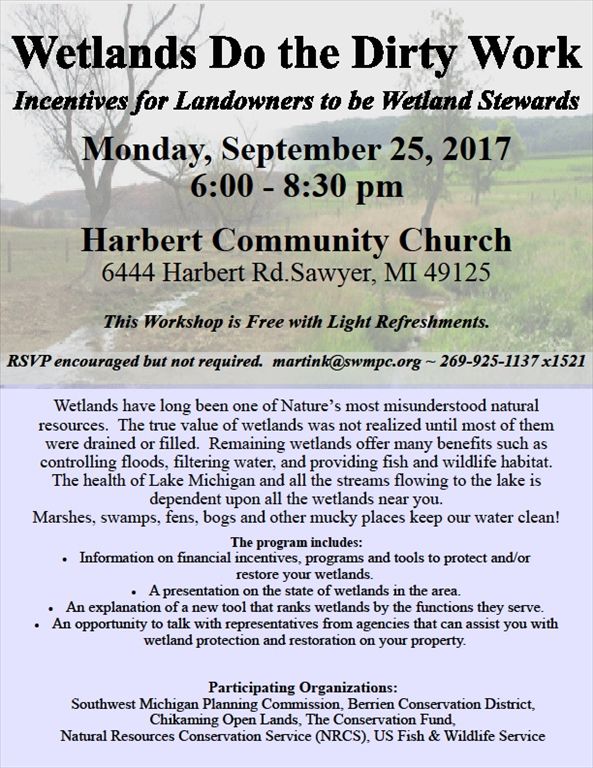 Past Event: Wetlands Do the Dirty Work
Incentives for Landowners to be Wetland Stewards
This event took place on Monday, September 25, 2017
To view the presentations from the Wetland Workshop please click here:
---
Lake Michigan Tributaries North Section in Berrien County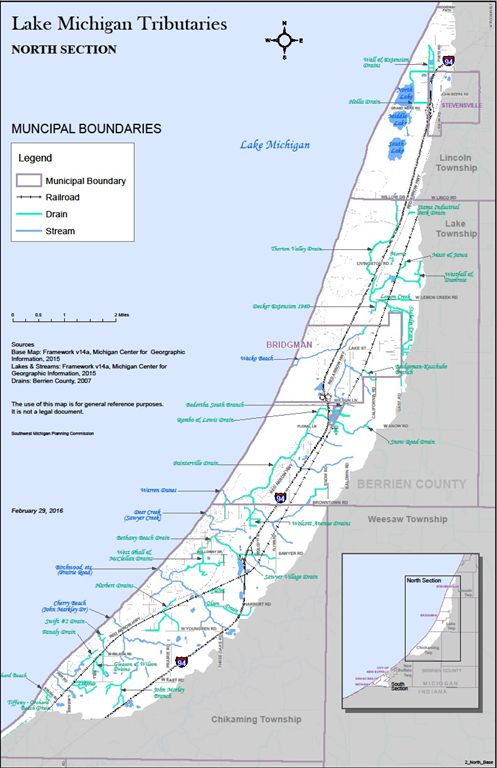 Lake Michigan Tributaries South Section in Berrien County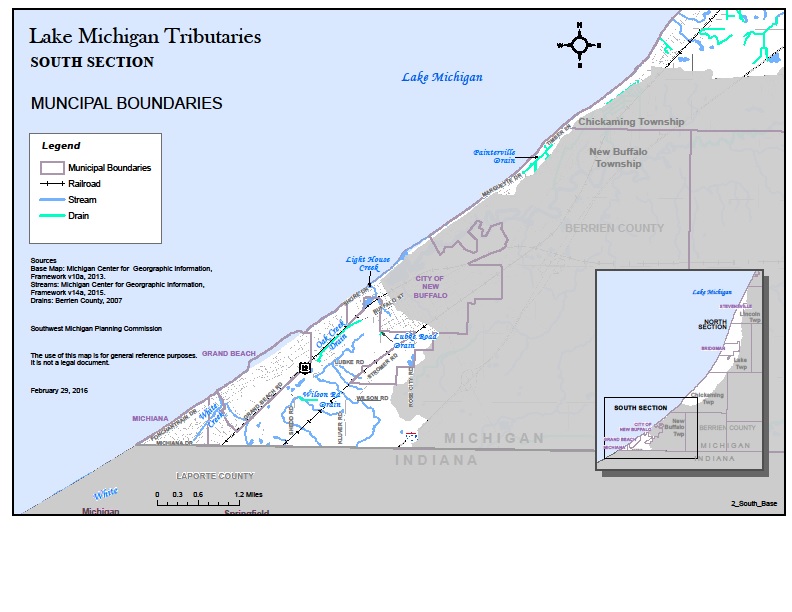 Maps for the Lake Michigan Tributaries
In the News:
Project Partners:
Chikaming Open Lands, The Conservation Fund, Great Lakes Scientific Berrien County Health Department and Southwest Michigan Planning Commission.

Project Funders:
EGLE, The Pokagon Fund, Southwest Michigan Planning Commission
This page last updated on 10/4/2019.
Southwest Michigan Planning Commission
376 West Main Street Suite 130 Benton Harbor, MI 49022-3651
Phone: 269.925.1137 Fax: 269.925.0288