What We Do Home>Environmental Planning>Watersheds, Water Quality & Wetlands>Galien River Watershed>Watershed Project History and Goal
Galien River Watershed Project
Project History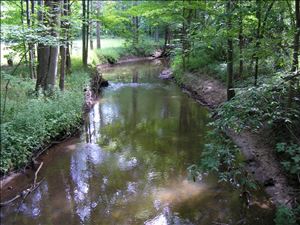 Beautiful southwest Michigan is blessed with quiet woodlands, rolling streams, wildlife, and productive farms thanks to the gentle care it has received from families with long-time roots. But things are changing: the treasured forests are being sold, the land is subdivided and then it is developed. Have you asked yourself "What can be done?"

The Galien River Watershed Project is designed to preserve good water quality and protect the open, natural spaces that we all love. It's part of a larger project to keep the beautiful Galien River a healthy vital river...
This locally led project was started by the county drain commission in 2001 to study flooding problems in the watershed. An inventory was completed in 2003 and a local steering committee of conservation groups, elected officials, private citizens and landowners came together to develop a Watershed Management Plan. Grant funds were obtained in 2005 to begin implementation of the plan.
The Watershed is situated in the southwest corner of Berrien County, Michigan, and is included in the Little Calumet/Galien Tri-State Watershed Management Area, which spans coastal areas of Michigan, Indiana, and Illinois.
Project Goals and Objectives
The goal of the Galien River Watershed Project is to improve water quality by raising public awareness of water quality issues and addressing impairments to water quality. Landowners in the watershed need to understand the impacts of their actions on water quality. Once this relationship between actions and water quality impairment is better understood, the goal is to change behaviors to improve water quality. The ultimate project outcome is clean water and a healthy watershed. This watershed provides crucial benefits to our community.
Less than 2% of wetlands remain in the Galien River Watershed so a Landscape Level Wetland Function Assessment (LLWFA) focused on water quality will be completed, a wetland restoration and preservation plan will be developed for the watershed and five wetlands in the area will be preserved through conservation easements. To have two Galien River Cleanup days to raise public awareness and improve water quality will be completed by Chikaming Open Lands.
This page last updated on 12/14/2010.
Southwest Michigan Planning Commission
376 West Main Street Suite 130 Benton Harbor, MI 49022-3651
Phone: 269.925.1137 Fax: 269.925.0288